Debt ceiling debate: the opportunity costs
(Read article summary)
Debt ceiling discussions are taking up huge amounts of legislative time. But should the president be able to raise the debt ceiling on his own?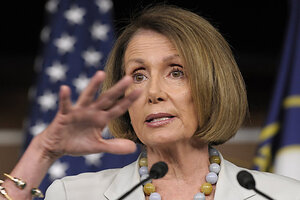 Susan Walsh / AP
We live at a time of 9.2% unemployment, with tens of millions un- and underemployed. The job market is stuck in neutral—if the economy were a bicycle, it would be wobbling along, threatening to keel over unless the rider paid some attention to the pedals.
And yet, instead of dealing with this fundamental challenge to the living standards of everyday people, Mitch McConnell, the Republican leader in the Senate, spent the day figuring out a way to avoid having to vote to raise the debt ceiling.
Clearly, he's in the same mode as his house colleagues, who now argue that "it's the administration's debt ceiling."
The proposal would have the President call for increasing the debt ceiling, and that call would trigger an equal-sized (nonbinding) cut in spending. The Congress could vote against raising the ceiling, but they'd need a veto-proof majority to make that vote stick.
I've seen a bunch of analysis suggesting that Obama should like this deal. He can raise the debt ceiling on his own, get credit for proposing spending cuts, and leave it to Congress to enact them or not. Sure, he and the D's (assuming they'd support his veto if the R's "disapproved" of the debt increase) get tagged with raising the ceiling, but hey, that's the price of being the grown ups.
---