Medicare and health care: Where have they been in the budget debate?
(Read article summary)
Medicare and health care costs were an insignificant part of the budget talks. If health care costs keep growing faster than GDP, can we ever come up with a solid debt deal?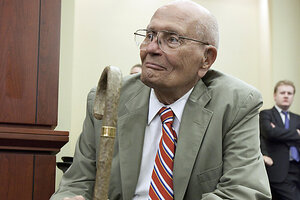 Harry Hamburg / AP / File
While jogging this morning, I heard an interesting discussion/debate on the "On Point" radio show between Dean Baker and Steve Bell (also, listen to the opening where Major Garrett shares some worthy insights into the debt deal—his first lesson from the deal is dead on: "A new precedent. Debt-ceiling increases are now tied to deficit reduction.")
One part that interested me was their discussion of health care and its role—or lack thereof—in the budget debate. As long as health care costs keep growing two percent faster than GDP, which has been the trend for years now, there's no clever debt deal that "gets our fiscal house in order."
So, if we wanted to have a discussion about actually changing out budget trajectory, we'd have to talk health care (we'd also have to talk revenues, but that's another discussion). And here, an important concept here is cost-shifting versus cost-saving.
---