How Obama's tax deal reinforces Republicans' trickle-down worldview
(Read article summary)
Republicans have long argued that the problem with the economy is too much government and too much regulation. By freezing spending and cutting taxes, is President Obama agreeing with them?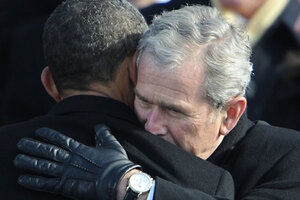 Paul J. Richards / AFP / Getty Images / Newscom / File
Apart from its extraordinary cost and regressive tilt, the tax deal negotiated between the President and the Republicans has another fatal flaw.
It confirms the Republican worldview.
Americans want to know what happened to the economy and how to fix it. At least Republicans have a story – the same one they've been flogging for thirty years. The bad economy is big government's fault and the solution is to shrink government.
Here's the real story. For three decades, an increasing share of the benefits of economic growth have gone to the top 1 percent. Thirty years ago, the top got 9 percent of total income. Not they take in almost a quarter. Meanwhile, the earnings of the typical worker have barely budged.
The vast middle class no longer has the purchasing power to keep the economy going. (The rich spend a much lower portion of their incomes.) The crisis was averted before now only because middle-class families found ways to keep spending more than they took in – by women going into paid work, by working longer hours, and finally by using their homes as collateral to borrow. But when the housing bubble burst, the game was up.
The solution is to reorganize the economy so the benefits of growth are more widely shared. Exempt the first $20,000 of income from payroll taxes, and apply payroll taxes to incomes over $250,000. Extend Medicare to all. Extend the Earned Income Tax Credit all the way up through families earning $50,000. Make higher education free to families that now can't afford it. Rehire teachers. Repair and rebuild our infrastructure. Create a new WPA to put the unemployed back to work.
---