New 'bipartisan' tax deal: Reaganomics redux
(Read article summary)
The tax deal passed Thursday night embodies the essence of Reaganomics: reduce taxes on the wealthy and shrink government (except for defense).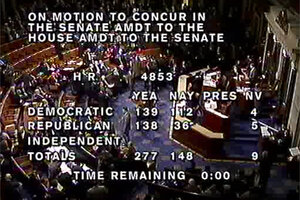 C-SPAN / AP
More than thirty years ago, Ronald Reagan came to Washington intent on reducing taxes on the wealthy and shrinking every aspect of government except defense.
The new tax deal embodies the essence of Reaganomics.
It will not stimulate the economy.
A disproportionate share of the $858 billion deal will go to people in the top 1 percent who spend only a fraction of what they earn and save the rest. Their savings are sent around the world to wherever they will earn the highest return.
The only practical effect of adding $858 billion to the deficit will be to put more pressure on Democrats to reduce non-defense spending of all sorts, including Social Security and Medicare, as well as education and infrastructure.
It is nothing short of Ronald Reagan's (and David Stockman's) notorious "starve the beast" strategy.
In 2012, an election year, when congressional Democrats have less power than they do now, the pressure to extend the Bush tax cuts further will be overwhelming.
Worse yet, the deal adds to the underlying structural problem that caused the Great Recession in the first place.
---