Why Obama wins on the military but loses on the economy
(Read article summary)
President Obama has scored huge victories — START, gays in the military — and huge losses. The difference? The GOP won't get behind anything that threatens the wealthy.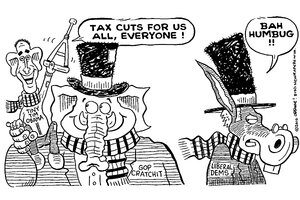 John Rose / Byrd Newspapers / Scripps Howard Photo Service / Newscom
Two important victories for President Obama this week — the New Start anti-ballistic missile treaty with Russia to reduce weapons and re-start inspections, and the end of Don't Ask Don't Tell after a 17-year ban on gays in the military.
Why have Senate Republicans been willing to break ranks on these two, while not a single Republican went along with Obama's plan to extend the Bush tax cuts on the first $250,000 of income? Why has Obama consistently caved on economic and taxes, but held his ground on foreign policy and issues like gays in the military?
A hint of an answer can be found in another Senate defeat for Obama over the last few weeks that got almost no attention in the media but was a big one: Republicans blocked consideration of the House-passed Disclose Act, which would have required groups that spend money on outside political advertising to disclose the major sources of their funding.
The answer is this. When it comes to protecting the fortunes of America's rich (mostly top corporate executives and Wall Street) and maintaining their strangle-hold on the political process, Senate Republicans, along with some Senate Democrats, don't budge.
Bipartisanship is possible on foreign policy. It's even possible on certain social issues, such as gays in the military. But it's not possible when it comes to the core economic and political reality of the United States today — the almost unprecedented concentration of income and wealth at the top, and the way it's being used to corrupt our democratic system.
---