Clarence Thomas and the politicization of the Supreme Court
(Read article summary)
Justice Thomas has accused others of politicizing the court, but he's guilty of doing so, too.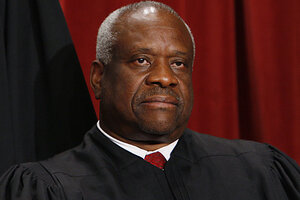 Charles Dharapak / AP / File
Justice Clarence Thomas, in a speech last weekend to the Federalist Society, accused his critics of "undermining" the legitimacy of the Supreme Court – politicizing it in ways that jeopardize the Court's credibility in the eyes of the public. He warned:
You are going to be, unfortunately, the recipients of the fallout from that – that there's going to be a day when you need those institutions to be credible and to be fully functioning to protect your liberties. That could be either a short or a long time, but you're younger, and it's still going to be a necessity to protect the liberties that you enjoy now in this country.
Odd coming from Clarence Thomas — who has done more to politicize the Court than anyone in recent years, with the possible exception of his brother on the bench Antonin Scalia.
Last year, you'll recall, the votes of Thomas and Scalia swung the Court in the direction of the right-wing group Citizens United – plaintiffs in the case that struck down federal laws limiting corporate campaign contributions.
Before the decision, Thomas and Scalia also participated in a political retreat hosted by Tea Party billionaire financiers Charles and David Koch, driving forces behind loosening restrictions on big money in politics.
---