A governor destroys history in the name of promoting business
(Read article summary)
Maine Governor Paul LePage is one of many Republicans across the country who is assaulting workers' rights and history to encourage business growth.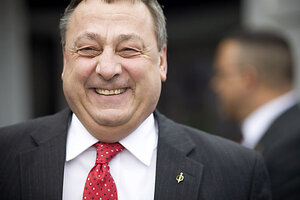 Rich Beauchesne / AP / File
Maine Governor Paul LePage has ordered state workers to remove from the state labor department a 36-foot mural depicting the state's labor history. Among other things the mural illustrates the 1937 shoe mill strike in Auburn and Lewiston. It also features an iconic "Rosie the Riveter" working at the Bath Iron Works. One panel shows my predecessor at the U.S. Department of Labor, Frances Perkins, who was buried in Newcastle, Maine. [Editor's note: This paragraph was changed to reflect that "Rosie" was probably a composite of several women.]
The LePage Administration is also renaming conference rooms that had carried the names of historic leaders of American labor, as well as former Secretary Perkins.
The Governor's spokesman explains that the mural and the conference-room names were "not in keeping with the department's pro-business goals."
Are we still in America?
Frances Perkins was the first woman cabinet member in American history. She was also one of the most accomplished cabinet members in history.
She and her boss, Franklin D. Roosevelt, came to office at a time when average working people needed help – and Perkins and Roosevelt were determined to give it to them. Together, they created Social Security, unemployment insurance, the right of workers to unionize, the minimum wage, and the forty-hour workweek.
---