Government shutdown would be a blow to the public
(Read article summary)
Government shutdown can be avoided if Obama can end the budget stalemate and remind Americans that they have obligations to one another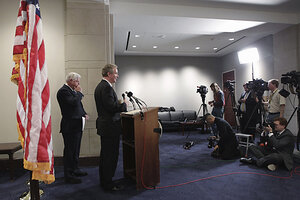 J. Scott Applewhite / AP
I was there in 1995 when the government closed because of a budget stalemate. I had to tell most of the Labor Department's 15,600 employees to go home and not return the next day. I also had to tell them I didn't know when they'd next get a paycheck.
There were two shutdowns, actually, rolling across the government in close succession, like thunder storms.
It's not the way to do the public's business.
Newt Gingrich got blamed largely because his ego was (and is) so big he couldn't stop blabbing that Clinton should be blamed. (Gingrich's complaint of a bad seat on Air Force One didn't help.)
But the larger loss was to the dignity and credibility of the United States government. When average Americans saw the Speaker of the House and the President of the United States behaving like nursery school children unable to get along, it only added to the prevailing cynicism.
Cynicism about government works to the Republicans' continued advantage.
Case in point. House Budget Chair Paul Ryan unveiled a plan today that should make every American cringe. It would turn Medicare into vouchers whose benefits are funneled into the pockets of private insurers. It would make Medicaid and Food Stamps into block grants that allow states to ignore poor people altogether. It would drastically cut funding for schools, roads, and much else Americans need. And many of the plan's savings would go to wealthy Americans who'd pay even lower taxes than they do today.
---