Beware the 'middle ground' of the Great Budget Debate
(Read article summary)
The center of public opinion is nowhere near the halfway point between the two extremes of the budget debate. Americans lean toward Obama and the Democrats.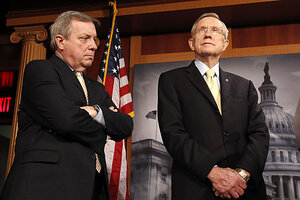 Kevin Lamarque / Reuters / File
How debates are framed is critical because the "center" or "middle ground" is supposedly halfway between the two extremes.
We continue to hear that the Great Budget Debate has two sides: The President and the Democrats want to cut the budget deficit mainly by increasing taxes on the rich and reducing military spending, but not by privatizing Medicare. On the other side are Paul Ryan, Republicans, and the right, who want cut the deficit by privatizing Medicare and slicing programs that benefit poorer Americans, while lowering taxes on the rich.
By this logic, the center lies just between.
Baloney.
According to the most recent Washington Post-ABC poll, 78 percent of Americans oppose cutting spending on Medicare as a way to reduce the debt, and 72 percent support raising taxes on the rich – including 68 percent of Independents and 54 percent of Republicans.
In other words, the center of America isn't near halfway between the two sides. It's overwhelmingly on the side of the President and the Democrats.
I'd wager if Americans also knew two-thirds of Ryan's budget cuts come from programs serving lower and moderate-income Americans and over 70 percent of the savings fund tax cuts for the rich – meaning it's really just a giant transfer from the less advantaged to the super advantaged without much deficit reduction at all – far more would be against it.
---