The oil company gusher
(Read article summary)
Exxon-Mobil earned 69 percent more during the first quarter than a year ago, and the industry is trying to keep a $4 billion annual tax subsidy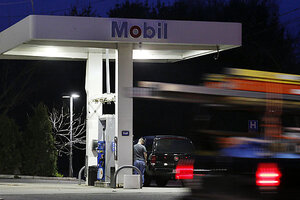 Elise Amendola / AP
Exxon-Mobil's first quarter earnings of $10.7 billion are up 69 percent from last year. That's the most profit the company has earned since the third quarter of 2008 — perhaps not coincidentally, around the time when gas prices last reached the lofty $4 a gallon.
This gusher is an embarrassment for an industry seeking to keep its $4 billion annual tax subsidy from the U.S. government, at a time when we're cutting social programs to reduce the budget deficit.
It's specially embarrassing when Americans are paying through their noses at the pump.
Exxon-Mobil's Vice President asks that we look past the "inevitable headlines" and remember the company's investments in renewable energy.
What investments, exactly? Last time I looked Exxon-Mobil was devoting a smaller percentage of its earnings to renewables than most other oil companies, including the errant BP.
In point of fact, no oil company is investing much in renewables — precisely because they've got such money gusher going from oil. Those other oil companies also had a banner first quarter, compounding the industry's embarrassment about its $4 billion a year welfare check.
American Petroleum Industry CEO Jack Gerard claims the gusher is due to the "growing strength in our economy."
Baloney. If you hadn't noticed already, this is one of the most anemic recoveries on record. $4-a-gallon gas is itself slowing the economy's growth, since most consumers are left with less money to spend on everything else.
Gerard then claims the giant earnings "reflect the size necessary for [American] companies to be globally competitive with national oil companies" around the world.
---