The Republican plan with lipstick
(Read article summary)
Republicans have disguised a plan to reduce the deficit with caps and procedures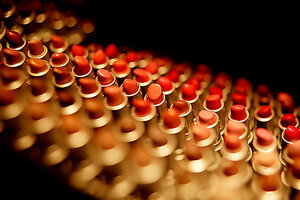 Con Tanasiuk / Design Pics/Newscom
Republicans figure that if they can't sell the pig, they'll just put lipstick on it and find some suckers who will think it's something else.
That's the proposal emerging in the Senate from Republican Bob Corker of Tennessee and also Democrat Claire McCaskill of Missouri. It would get the deficit down not by raising taxes on the rich but by capping federal spending.
If Congress failed to stay under the cap, the budget would be automatically cut.
According to an analysis by the Center on Budget and Policy Priorities, the McCaskill/Corker plan would require $800 billion of cuts in 2022 alone. That's the equivalent of eliminating Medicare entirely, or the entire Department of Defense.
Obviously the Defense Department wouldn't disappear, so what would go? Giant cuts in Medicare, Medicaid, education, and much of everything else Americans depend on.
---