The battle for the soul of the GOP
(Read article summary)
In the match between Wall Street and the Tea Party, who will win the Republican soul?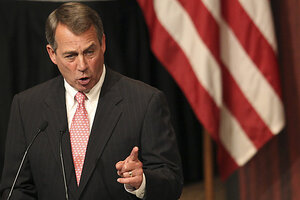 Kathy Willens / AP
The real battle for the soul of the GOP started today with a speech on Wall Street by Speaker of the House John Boehner.
Wall Street and big business fear Tea Partiers won't allow House Republicans to raise the debt ceiling without major spending cuts – and without tax increases on the wealthy. Wall Street and big business know this would be unacceptable to the White House and congressional Democrats.
The Street and big business want to tame the budget deficit but they don't want to play games with the debt ceiling. Credit markets are fine at the moment, but if the debt ceiling isn't not raised within the month – weeks before August 2, when the Treasury predicts the nation will run out of money to pay its creditors and its other bills – credit markets could go into free fall. The full faith and credit of the United States would be jeopardized. Interest rates would skyrocket. The dollar could plummet.
The Tea Partiers don't care about the debt ceiling. To them, it's a giant bargaining chit to shrink government. Nor do they worry about credit markets. If the full faith and credit of the U.S. government is no longer honored, so much the better.
You see, Tea Partiers hate government more than they hate the national debt. They refuse to reduce that debt with tax increases, even with tax increases on the wealthy, because a tax increase doesn't reduce the size of government. The Tea Partiers' real aim is to shrink the government.
---