Immigration, corporations, and the real debate over US citizenship
(Read article summary)
Immigration is just one part of the conversation over US citizenship, Reich writes. The immigration debate is also a question of who we want to join us.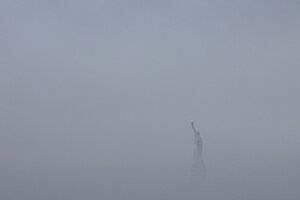 Andrew Kelly/Reuters/File
Sometimes we have a national conversation without realizing it. We talk about different aspects of the same larger issue without connecting the dots.
That's what's happening now with regard to the meaning of American citizenship and the basic rights that come with it. 
On one side are those who think of citizenship as a matter of exclusion and privilege — of protecting the nation by keeping out those who are undesirable, and putting strict limits on who is allowed to exercise the full rights of citizenship. 
On the other are those who think of citizenship inclusively — as an ongoing process of helping people become full participants in America. 
One part of this conversation involves immigration. I'm not just referring the question of whether or how people living in the United States illegally can become citizens. (Courtesy of our fast-growing Latino population, 70 percent of whom voted for President Obama last November, we're far closer to resolving that one than we were a year ago.) 
It's also a question of who we want to join us. Engraved on a bronze plaque mounted inside the lower level of the pedestal of the Statue of Liberty are Emma Lazarus' immortal words, written in 1883: "Give me your tired, your poor/ Your huddled masses yearning to breathe free/ The wretched refuse of your teeming shore./ Send these, the homeless, tempest-tost, to me."
By contrast, a bipartisan group of lawmakers last week introduced a bill giving priority to the highly skilled. "Our immigration system needs to be … more welcoming of highly skilled immigrants and the enormous contributions they can make to our economy," said one of its sponsors, Florida Senator Marco Rubio.  
So is the priority to be those who need us, or those whom we need? 
Another part of the same larger conversation concerns voting rights — the means by which citizens participate in our democracy. 
Long waiting lines depressed voter turnout last November, especially in cities where Democrats outnumber Republicans.One study showed blacks and Hispanics on average had to wait nearly twice as long to vote as whites. Some gave up trying. 
Voter registration is part of that issue, along with what sorts of proof of citizenship states may require. Dozens of legal challenges and lower-court decisions were made in the months leading up to the November election. Some are heading to appellate courts. 
Congressional Democrats are pushing legislation to require states to ease voting requirements — allowing more early voting, online voting, and quicker means of registering. Meanwhile, the Supreme Court is preparing to hear a major challenge to the Voting Rights Act of 1965 potentially giving states more leeway to tighten voting standards.
A different aspect of the citizenship conversation concerns the rights of corporations to influence elections. The Court's bizarre 2010 decision in "Citizens United versus Federal Election Commission" — deeming corporations people under the First Amendment, with unlimited rights to spend money on elections — didn't consider the question of corporate citizenship as such. 
But it's likely to become a big issue in the future as large American companies that pour lots of money into our elections morph into global corporations without any particular national identity. 
Most of Chrysler is owned by Fiat, and most of Fiat is owned by non-Americans. Both IBM and GE have more non-American employees and customers than American, and foreign ownership of both continues to increase. At what point do these global entities forfeit their right to influence U.S. elections?
And then there's the growing debate about whether American citizens have the right to a trial by an impartial judge and jury before the government executes them. 
You might think so. The Constitution guarantees American citizens "due process" of law. But a "white paper" from the Justice Department, recently obtained by NBC News, argues that an "informed, high-level" government official can unilaterally decide to put an American citizen to death without any judicial oversight if that official decides the citizen in question is an operational leader of Al Qaeda or one of its allies. 
Even if you trust high-level officials in the current administration, their argument should give you pause. The relative ease by which targeted drones can now kill particular individuals far from recognized battlefields (as did the drone attack on American-born Anwar al-Awlaki in Yemen in September, 2011) raises uncomfortable questions about the protections accorded American citizens, as well as the potential for arbitrary decision making about who lives or dies. 
They may seem unrelated, but all these issues — who gets to be an American citizen, how easily American citizens can vote, whether global corporations are American citizens entitled to influence our elections, and whether American citizens are entitled to a judge and jury before being executed — are pieces of the same larger debate: Are we more fearful of "them" out there, or more confident about "us"? Is our goal to constrain and limit citizenship, or to enlarge and fulfill its promise? 
It's an old debate in America. The greatness of our nation lies in our overriding tendency to choose the latter. 
---