Smartphones: Beware those payment apps
(Read article summary)
Smartphones encourage overspending. Use cash, instead of smartphones, to make payments.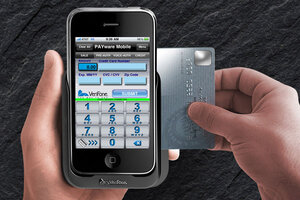 Business Wire/File
First, it was credit cards. Soon it will be smartphone payment apps.
Like cursive handwriting, paying with cash is practically obsolete due to
technological advances. A greater number of cellphone manufacturers are
now adding NFC (near field communication) chips to their handsets,
allowing consumers to use their phone like a credit card at various retail
stores.
Shifting to a system of virtual money is convenient, but it could have
significant consequences for consumers and their family budgets.
There seems to be a lot of excitement about making payments by simply
waving a smartphone in front of a reader. But this is an even easier way to pay than swiping
a credit card, and overspending can be the dark side of this convenience.
Consumers have certainly spent more with credit cards compared with cash.
According to a Consumer Reports study last year, consumers who used credit
cards for gift purchases during the 2009 holiday season spent an average of
$896 on gifts, 10 percent more than the overall average of $811.
Psychological studies and research papers compare the effects of credit
cards and cash payments. A series of studies published in 2008 by the
American Psychological Association examined the purchasing behavior
of consumers. The studies found that people spend less when paying
cash than using credit – cash discourages spending and credit cards
encourage it.
Other studies reach the universal conclusion that consumers spend less
with cash because cash is the most vivid and transparent method of
payment. The more transparent the payment, the higher the pain of
paying, and the greater the resistance to spending.
---