Credit cards: Top 5 cards for grads
(Read article summary)
Credit cards for high school and college graduates offer cash back and, most importantly, no annual fee. If you're not sure you qualify for regular credit cards, there's an option for you, too.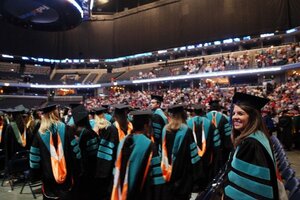 Kyle Kurlick/The Commercial Appeal/AP/File
As high school and college seniors around the country don caps and gowns, something aside from a diploma is waiting for them: increased financial independence. Whether they plan to enter the workforce or pursue a more advanced degree, soon-to-be grads will be responsible for more of their own expenses. In other words, it's time to get that first credit card.
Convenience, rewards, and low interest rates factor into this recommendation, but credit-building should be their main objective. Graduates' credit standing influences not only their loan and credit card terms, but also their insurance premiums, ability to lease a car or an apartment, and even their likelihood of getting hired in certain fields.
A credit card, if used correctly, essentially serves as a fast pass to a higher credit score. Every month, usage information is relayed to your major credit reports (Experian, Equifax, and TransUnion), and if this information reflects on-time payments and low credit utilization, your credit score will rise.
Not every credit card is suitable for young adults. Getting a credit card with no annual fee should be a college or high school grad's top priority for two reasons: 1) Budgets are typically tight at this stage in life and 2) the rewards and interest rates available won't justify paying a premium. One last thing before we get to the cards: If you're under 21, in order to comply with the CARD Act you'll either need a cosigner or sufficient independent income/assets to make at least monthly minimum credit-card payments.
---