Some credit cards can replace car-rental insurance
(Read article summary)
You could save up to $28 a day by skipping car-rental insurance. But getting replacement coverage from a credit card depends on two key questions.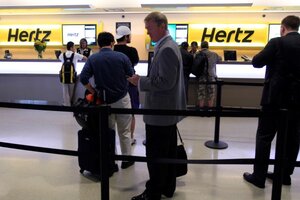 Paul Sakuma/AP/File
Even if you own a car, there are times you need to rent one – whether it's a business trip or that vacation to Puerto Rico. Whatever the reason, there are certain decisions you need to make – one of the key ones is whether to accept car rental insurance.
Costing up to $28 a day, the car-rental company's option isn't cheap. The advantage is that it typically provides primary coverage for loss damage waivers (LDW) and collision damage waivers (CDW). Essentially, that lets you off the hook if the rental car is vandalized or stolen, or if you crash it. And because it's primary coverage, you don't have to go through your personal auto insurance, which could jack up your premiums.
Is there cheaper insurance? Credit card companies offer some alternatives. Whether it's the best option for you depends on two questions: 1) Do you already have auto insurance? 2) Does the credit card offer primary or secondary insurance coverage?
Most credit cards offer only secondary coverage. That covers the gaps that primary insurance doesn't offer, such as a deductible and any excess of liabilities above the limit of primary coverage. So if you have a fender-bender and don't pony up for the rental car company's insurance, you still have to go through your insurance company.
But if you don't own a car – and thus, don't carry car insurance – secondary insurance through a credit card becomes a great deal. You get the coverage you need because, through standard terms of a credit card, secondary insurance becomes primary for the uninsured. And you don't have to pay a deductible.
---