Thanksgiving dinner: 10 ways to save
(Read article summary)
Thanksgiving dinner isn't cheap, but it doesn't have to break the bank. Here are ten tips to save on the big Thanksgiving meal.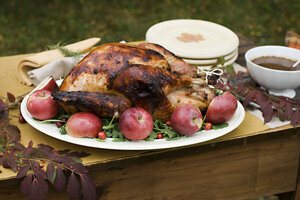 Matthew Mead/AP/File
Thanksgiving is a time to give thanks, overeat, and spend time with family – but it isn't cheap.
After jumping 13 percent from 2010 to 2011, this year the price to provide a feast for ten will rise by only $.28 from last year to $49.48, according to the American Farm Bureau Federation.
Luckily, there are simple ways to keep Turkey Day from taking a bite out of your family fun. Here are some money-saving tips for Thanksgiving…
1. Make a list
It's easy to overspend when shopping for a much anticipated holiday dinner. Make a list of what you'll need and exactly how much, and be sure to stick to it when you're in the store.
2. Don't forget store promotions and coupons
Keep an eye out for special coupons and promotions around Thanksgiving. Some stores offer a free turkey if you spend a certain amount of money. ShopRite, for example, is offering a free turkey or ham to customers who spend more than $300 between Oct. 14 and Nov. 22.
3. Know price matching policies
Find out if there are any stores nearby that will match advertised prices from competitors. Do the bulk of your shopping there – just don't forget to bring your coupons.
4. Choose one meat…
---