Warehouse store showdown: Should you join Costco, Sam's Club, or BJ's?
(Read article summary)
Membership in warehouse stores can save consumers big. But among the big three – BJ's, Sam's Club, and Costco – which one is right for you?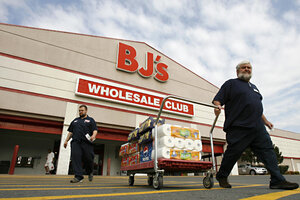 Kevin Lamarque/Reuters/File
According to Consumer Reports, shoppers can save up to 55 percent at warehouse clubs – on everything from bulk packages of toilet paper and frozen pizza to Coach handbags and vacation packages. If you belong to one, you're probably enjoying the savings and the "treasure hunt" shopping experience – never quite knowing what you'll find on shelves and pallets.
It's no surprise that as warehouse clubs open more locations and offer a wider range of items, sales are growing. The $390 billion industry has seen a 137 percent jump in sales from 2001 to 2011, compared to 47 percent for all general merchandise stores, according to First Research.
But which warehouse club is best for you? Sometimes it's as simple as finding the one closest to home, but if you have choices, you should consider factors, from selection to return policies. We put the big three to the test by comparing 11 factors – from basic membership costs and locations to selection of luxury goods.
1. Membership costs
---