Cupboard bare? Five great deals on kitchen tools.
(Read article summary)
During your holiday entertaining, you may have found your kitchen wanting. Fix that with these great deals on appliances, cutlery, and more.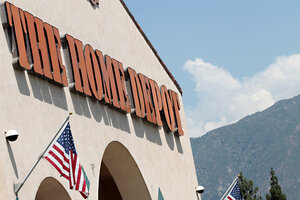 Mario Anzuoni/Reuters/File
You may have noticed from your holiday entertaining that no matter where you want your guests to congregate, they always wind up in the kitchen. And it's that kind of attention that requires a well-stocked cupboard. Today's kitchen deals are varied and include nearly everything but the kitchen sink!
Lou Carlozo is a contributor to dealnews.com, a website devoted to finding the best deals on consumer goods. The site pledges to list the best deal, whether or not it's from an advertiser, although it does work with advertisers to craft deals for readers. Our guest bloggers are not employed or directed by the Monitor and the views expressed are the bloggers' own, as is responsibility for the content of their blogs. To contact us about a blogger, click here. This feature first appeared in dealnews.com. 
---