Everything you need to know about dynamic pricing
(Read article summary)
Dynamic pricing is a trendy term in the marketplace. But what does it mean? It's a blanket term that describes how competition, time of day and even the weather can affect prices.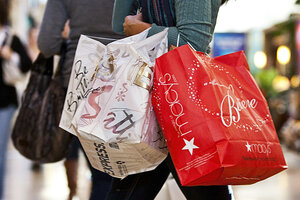 Chris Keane/Reuters/File
Dynamic pricing is a marketplace buzzword that has been around for a while, though it's being bandied about with increasing frequency as of late. Whether you're a consumer already planning your holiday shopping budget or just looking to save money on your regular household expenditures, it's important to understand what dynamic pricing is and how it can affect you.
What Is Dynamic Pricing?
Dynamic pricing is a blanket term for any shopping experience where the price of an item fluctuates frequently based on complicated algorithms. A retailer might frequently change the price of an item based on consumer demand, price fluctuations at a competing retailer, or even the time of day and weather conditions.
Dynamic pricing is the reason that the cost of everything from airline tickets to home electronics can vary so much from day to day, or from week to week. With the increased popularity of dynamic pricing models, consumers now need to factor in when and where to shop.
But leveraging dynamic pricing to your best advantage requires knowing what industries are most invested in these algorithmic pricing plans in the first place.
Dynamic Pricing Is Everywhere
Dynamic pricing can be found in a wide variety of industries. In certain grocery stores, the price consumers pay for the exact same product can differ based on personal data collected through loyalty card programs. In an industry where profit margins are thin, retailers are basing their prices on the behaviors and habits of their shoppers.
Perhaps more familiar, the travel industry has been using dynamic pricing schemes for years. Any seasoned traveler can tell you that getting the lowest airfare often comes down to a combination of buying tickets on the correct day of the week, at the right time of day, and the correct number of days before your scheduled departure date. (Did you know the best time to buy airfare is six weeks in advance?)
---