Black Friday ads: Can deals serve as crowd control?
(Read article summary)
Black Friday ads for deals are being used by some retailers to control crowds and maximize shopper safety. The most effective Black Friday ads to manage in-store crowds may be to offer the same deals online.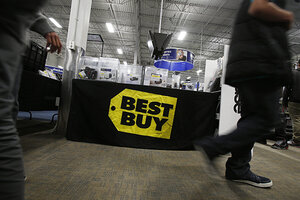 Brian Davies/The Register-Guard/AP/File
We've all heard the Black Friday horror stories about out of control crowds. But is it really dangerous to head to the store on Black Friday? What steps are retailers taking to protect customers and employees during the shopping holiday? Read on to see how merchants will try to maximize safety — and profits — during the Black Friday season.
Black Friday Crowd Control Remains a Priority
Our recent survey revealed that more than half of our readers plan to shop online during Black Friday. This finding was backed up by a recent Nielson study, in which 46% of respondents said they'd do their Black Friday shopping online. All of this could add up to smaller crowds on shopping's biggest holiday.
Yet, despite these findings, the U.S. Department of Labor's Occupational Safety and Health Administration (OSHA) released a document urging retailers to put safety first on Black Friday. Citing the trampling death of a Walmart worker during a Black Friday sale five years ago, the press release implores merchants to enforce crowd safety measures like providing "on-site trained security personnel or police officers," "not allowing additional customers to enter the store when it reaches its maximum occupancy level," and "not blocking or locking exit doors."
---