Estonia embraces euros
(Read article summary)
On Jan. 1, 2011, Estonia becomes the 17th euro country. What does this mean for the former Soviet republic – and for the euro?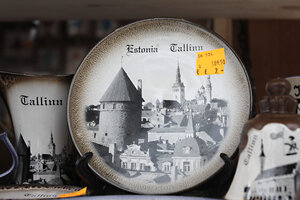 Ints Kalnins / Reuters
Defying the predictions of a collapse or a break-up, the euro area will tomorrow expand with its 17th official member (in addition, a number of smaller countries like Andorra, Monaco, San Marino and Kosovo use the euro without being formal members): Estonia.
This will have almost no effect in terms of macroeconomic policy since Estonia has pegged its currency to the euro (or the D-mark before 1999) since June 1992, which means that they have already adopted the monetary policy of the ECB (or the Bundesbank before 1999) since then. The difference will be mainly symbolic, but it will also mean that transaction costs will be removed and the credibility of the elimination of exchange rate risks will be strengthened.
---