Is the US still ahead of Chinese manufacturing?
(Read article summary)
Some economists say it is, but they're using the wrong metrics.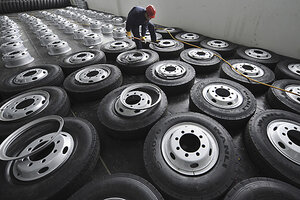 Jianan Yu / Reuters / File
Mark Perry, Scott Sumner and some other economists have recently linked to this article by Boston Globe columnist Jeff Jacoby, where he claims that a UN database shows that the value of U.S. manufacturing is still (or more correctly was still in 2009) larger than the value of manufacturing in China.
This would strike you as odd, considering that you can for example see news of how China is the by far biggest consumer of copper and other industrial metals as well as oil and coal and how Chinese car sales and sales of other durable consumer goods as well as Chinese goods exports are greater than in the United States.
And if you look at the U.N. statistics page, you can see that at current exchange rates, the value of manufacturing in China was $2.05 trillion, more than the $1.78 trillion value of U.S. manufacturing.
Jacoby seems to have gotten his numbers by looking at the alternative indicator of "constant 2005 U.S. dollars". But the problem with using this indicator is that it overlooks the massive real appreciation of the Chinese yuan during this period, especially with regard to the manufacturing sector. And as I pointed out a few days ago, when comparing economic might, it is the value at current exchange rates which is relevant.
---