The official unemployment rate, and the hidden one
(Read article summary)
As the official unemployment rate rises, so does the number of people who quit looking for a job out of discouragement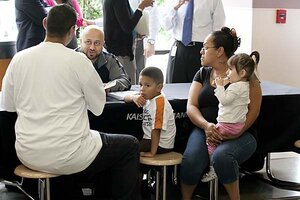 Damian Dovarganes / AP
Perhaps not surprisingly, there is a strong correlation between the official unemployment rate and the level of hidden unemployment in the form of discouraged job applicants and the part-time unemployed.
In the year between Q2 2010 and Q1 2011, North Dakota had an average official unemployment rate of 3.8% and an additional 3.6% of hidden unemployment while Nevada that had 14.2% official unemployment rate and an additional 9.5% in hidden unemployment. Other low unemployment states like South Dakota, Nebraska and New Hampshire also had low rates of hidden unemployment while other high unemployment states like California and Michigan also had high levels of hidden unemployment.
This makes sense as job seekers are more likely to become discouraged and quit trying to get jobs if there is more competion for available job openings and as increased ease for the full time unemployed to get jobs will also make it easier for the part-time unemployed to get full time jobs.
---