Europe's population stats show new trends
(Read article summary)
Luxembourg's population grew at the fastest rate, while Ireland had the highest birth rate, new figures from Eurostat show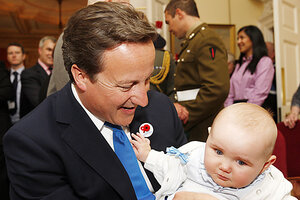 Akira Suemori / AP / File
Eurostat today released 2010 population figures for the EU-- Some of the more interesting facts include:
-Luxembourg had the fastest population growth rate, 1.9% (mostly net immigration), followed by Sweden, Malta, Belgium and Britain. Lithuania's population decreased the most, by 2.6% (mostly net emigration). Several other eastern European countries, including Latvia, also had a falling population, as did Germany and Portugal.
Outside the EU, Norway, Switzerland and Turkey had high population growth, driven mainly by immigration in the cases of Norway and Switzerland and a high birth rate in Turkey. Iceland had a falling population despite a high birth rate due to a high level of net emigration
---
Follow Stories Like This
Get the Monitor stories you care about delivered to your inbox.