2011 predictions: No tax reform in 2011 (or 2012)
(Read article summary)
2011 predictions from TaxVox are here: Substantial tax reform is still at least a year – and probably more – away.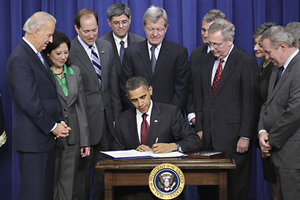 J. Scott Applewhite / AP / File
Much as I hate to write these words, tax reform isn't going to happen in the coming year, or even in the year after that.
The bipartisan tax deal reached by President Obama and Congress earlier this month, along with a few kind words about closing tax loopholes from a handful of GOP lawmakers, has some reformers uncharacteristically optimistic about a quick agreement to revise the revenue code. But, sadly, they are wrong. Here's why there won't be a serious effort to rewrite the tax code until after the next elections.
Obama isn't on board. The President could have used the tax reform plans offered by his own fiscal commission or the Bipartisan Policy Center as an opportunity to jumpstart the debate. But he was decidedly cool, calling only for a national conversation on taxes. As Ronald Reagan showed with the 1986 Tax Reform Act, a major rewrite of the revenue code requires a full-court press by the White House. To get a bill moving, Obama would have to send a complete reform plan to Congress and keep up the pressure for passage. There is no sign he's ready to do that.
---