PAYGO in the House: What it means – and won't mean
(Read article summary)
House rules now require that new spending be matched by new spending cuts. What will this actually mean? Not as much as you might think.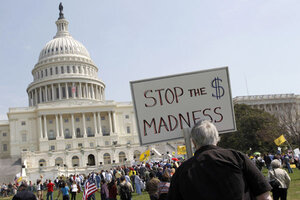 Jason Reed / Reuters / File
In one of their first actions after taking control of the House of Representatives last week, the new Republican majority passed their budget rules for the 112th Congress. The most important may have been major changes to longstanding PAYGO (pay-as-you-go) rules that were designed to constrain federal deficits. If they are followed—and Congress has a long history of ignoring these requirements—the new PAYGO requirements open the door to many more tax subsidies even as they put new pressure on entitlement spending.
In the Democratic House, lawmakers had to offset any tax cut or entitlement increase with equivalent tax hikes or entitlement cuts. Old PAYGO thus meant that tax and entitlement changes couldn't increase the federal deficit, at least when Congress followed its own rules. Keep in mind that these rules don't apply to discretionary spending that Congress reviews every year.
The new rules still require the House to pay for new entitlement spending but only with offsetting entitlement cuts—tax hikes will no longer count. And the new spending must be balanced over 1-, 5-, and 10-year periods. That will bar lawmakers from promising to cut spending five years from now to offset new spending today—a gimmick that Democrats used in the 2010 health law.
---