Tax return? Don't file it, IRS tells itemizers. Wait!
(Read article summary)
Tax return with itemized deductions can't be filed before mid-February or later, IRS says.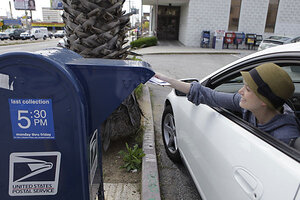 Damian Dovarganes/AP/File
If you're among the one-third of taxpayers who itemize deductions on their federal tax returns, the IRS says you can take your time filing your 2010 tax return. Or rather you have to take your time. The IRS won't let itemizers (or people who claim either the college tuition or educator expense deductions) file until mid- to late-February. Why? Because Congress didn't pass the 2010 tax act until mid-December. The IRS needs time to reprogram its computers to accommodate new tax rules—actually old rules since the tax act mainly extended last year's law through 2012.
The situation echoes another a few years back when Congress waited until late December to "patch" the alternative minimum tax for 2007 returns. The patch boosted the AMT's exemption and extended applicable credits, thus sparing more than 20 million taxpayers from owing additional tax. But the 4 million taxpayers still subject to the tax had to wait more than a month while the IRS rewrote its computer programs.
The IRS made sure that wouldn't happen again this year. When the chairmen and ranking members of the Ways and Means and Senate Finance Committees told IRS Commissioner Doug Shulman back in November that they would patch the AMT for 2010, Shulman had his programmers update their computers with the promised—but not enacted—fixes. Fortunately, Congress followed through so taxpayers who owe AMT for 2010 can file whenever they're ready—unless they want to itemize their deductions, which, of course, virtually all of them will.
Delaying tax filing is only the most tangible result of last-minute and temporary tax legislation. Over the past decade, the federal individual income tax has changed every year. Congress legislated some of the changes far in advance, but others popped up right before—or sometimes after—the new tax year started. People can't plan when they don't know which tax laws will apply. And they waste a lot of time and effort adapting to and complying with ever-changing rules.
---