Will Obama call for tax reform in the State of the Union?
(Read article summary)
Tax reformers are pushing the president, but aren't sure it's at the top of his agenda.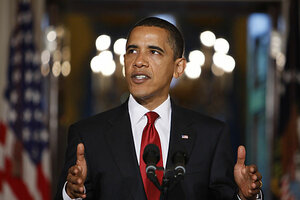 Charles Dharapak/AP/File
Tax reformers are pushing President Obama to use his upcoming Jan. 25 State of the Union address to press for a rewrite of the revenue code. They admit, though, they are uncertain whether he'll do so, or whether he'll follow up the rhetoric with a major White House initiative.
Unless the president takes the lead, reformers fear their efforts will go nowhere. "What this has always been about is the president," Senator Ron Wyden (D-OR) told me the other day. "We need to get the presidential bully pulpit." Wyden, who has sponsored his own reform plan, says he'll reintroduce his bill this year with a new Republican cosponsor. New Hampshire Republican Judd Gregg, who had coauthored the plan, has retired.
Last week, Rich Miller and Ryan Donmoyer at Bloomberg News described the Administration's internal struggles over whether to embrace reform. Insiders say the debate within the Obama White House over the issue remains unresolved. It is likely that Bill Daley, Obama's new chief of staff who has close ties to the business community, will play a key role in settling the dispute.
---