Jerry Brown: Governor Moonbeam or Tiger Mom?
(Read article summary)
California's governor is giving local governments some tough love.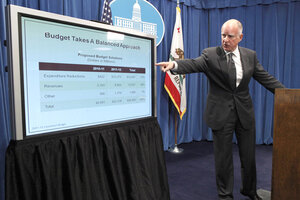 Rich Pedroncelli / AP / File
When Californians voted last fall to send Jerry Brown back to Sacramento, many commentators gleefully revived the Governor Moonbeam moniker. Now that he has submitted his first state budget, the governor is looking a lot more like a Tiger Mom. In particular, he is directing some tough love toward local governments.
Brown has proposed $12.5 billion in spending cuts to help close the state's projected $25+ billion gap. He'd reduce Medicaid benefits and provider payments while raising co-pays (saving $1.7 billion). He'd impose stricter time limits for welfare while slashing cash grants and childcare services ($1.5 billion). His plan would cut university budgets ($1 billion) while sticking state workers not covered by collective bargaining agreements with a 10 percent pay cut ($400 million). And, by the way, the governor wants 48,000 cell phones back.
Perhaps most audaciously, the governor is proposing a major reorganization of the state-local fiscal relationship. Although this shift would be accompanied by revenues and therefore is not expected to reap big short-term gains, it would move some fast-growing health and public safety programs off the state's books—and onto local budgets.
---