What it will take to balance the budget
(Read article summary)
Striking a balance between spending and revenue in Washington will be no easy task.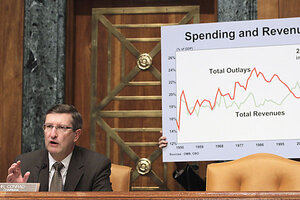 Charles Dharapak / AP
Three related issues dominate budget talk in Washington these days: eliminating the deficit, cutting spending, and reforming the tax system. Achieving the first will require accepting painful doses of the second and designing the third so we raise more revenue. No easy tasks there.
The difficulty shows clearly in a graph I prepared for a recent talk for the Tax Section of the American Bar Association (slides are available here) . The graph plots spending and revenues using the latest budget estimates from the Congressional Budget Office. Balancing the budget means getting to the dark blue 45-degree line where spending matches revenues. The further northwest of the line, the bigger the deficit.
For most of the past four decades, the federal budget has been above that line. Spending has averaged just under 21 percent of gross domestic product (GDP), well above the 18 percent average for revenues. Only for a few years, from 1998-2001, have revenues fully paid the government's bills—those four lonely dots below the diagonal line. And the last few years have found us well above the balanced budget line with deficits around 9 percent of GDP.
Those huge recent deficits result mainly from reduced tax revenues due to the economic collapse and counter-cyclical policies on both the spending and the tax side. While the CBO baseline projects a substantially better deficit picture in coming years, much of the improvement results from the optimistic assumption that Congress leaves tax law alone. Specifically that means letting all of the temporary tax cuts extended by the December compromise legislation expire and discontinuing the annual "patch" to the AMT. Under those assumptions, CBO projects that revenues will increase from 15 percent of GDP this fiscal year to 20 percent by FY2014, leaving us still well above the balanced budget line in the graph.
---