Little rebellions against party orthodoxy
(Read article summary)
A few Republicans and Democrats are turning away from their party's ideology. Can this lead to a bipartisan budget deal?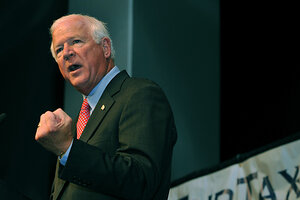 Gregory Smith / AP / File
Ideological heresy may not quite be breaking out all over Washington, but in the growing debate over the burgeoning debt, there are helpful hints of apostasy. And hope of a bipartisan consensus for responsible deficit reduction may lie atop those tiny waves of dissent.
The latest whiff of hopeful heterodoxy comes from three Republican senators– Saxby Chambliss of Georgia, Mike Crapo of Idaho, and Tom Coburn of Oklahoma. In quiet backroom negotiations and in a remarkable public exchange of letters with Grover Norquist of American for Tax Reform, the three lawmakers suggest that they might—might—support revenue-raising tax reform as part of a broader deficit reduction deal.
---