Shrink the government or the deficit?
(Read article summary)
Most Republicans would like to reduce the government's reach by lowering taxes. But a few are thinking differently.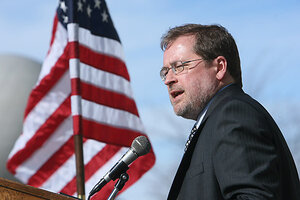 Chris Butler / AP / FIle
"The goal is to reduce the size and scope of government spending, not to focus on the deficit."—Grover Norquist
You've got to give Grover credit. Unlike most everyone else in Washington, at least he says what he believes. In a remarkably candid interview with Ezra Klein at The Washington Post, the head of the anti-tax lobby Americans for Tax Reform beautifully described the challenge faced by Republican lawmakers today.
When the GOP was out of power, it could easily paper over a profound internal disagreement: Should Republicans be the party of small government and low taxes, or the party of fiscal prudence? At first glance, these principles sound like the same thing. But they are not. And how a deeply divided GOP chooses between them says everything about the likelihood of both deficit reduction and tax reform any time soon, to say nothing about the party's political future.
---