Take the CLASS Act off the chopping block
(Read article summary)
The CLASS Act, a program for disabled and elderly people included in the 2010 Affordable Care Act, is facing Republican scrutiny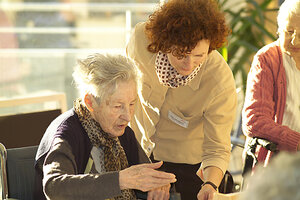 Alexander Bernhard/CHROMORANGE/picture-alliance/Newscom/File
The Community Living Services and Supports (CLASS) Act is an extraordinary case study in both budget and health care politics, and in the toxic political environment in which those of us in Washington live. And it puts a critical question into stark focus: Exactly how do we, as a society, want to provide for the care of people with disabilities or those in frail old age.
CLASS is a national, voluntary long-term care insurance program that was buried deep within the 2010 Affordable Care Act. The big idea behind CLASS was to take a small step towards turning long-term care services and supports from a program funded largely by Medicaid into a self-funded insurance system. Unfortunately, this extremely important reform was very poorly designed.
At the time CLASS passed, few paid much attention. But it has now become a prime target for those in Congress aiming to repeal "Obamacare." The other day, Representative Phil Gingrey (R-GA) introduced legislation to abolish CLASS, calling it, "A Bernie Madoff- fraudulent investment scheme…run by the Secretary of the Department of Health and Human Services."
---
Follow Stories Like This
Get the Monitor stories you care about delivered to your inbox.