Tax bonuses for some couples, penalties for others
(Read article summary)
Despite President Bush's attempt to eliminate the 'marriage penalty,' many couples still pay higher taxes because they're married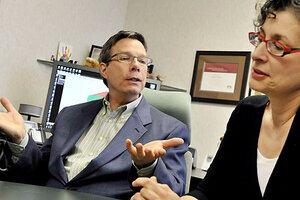 Jim Mone / AP / File
Few people marry or divorce to change their tax status, but the federal income tax code does treat married couples and single people differently. Each group has its own tax brackets, standard deductions, credits, and phaseouts. As a result, two people can face very different tax bills if they are married and file jointly than if they are single and file either as individuals or heads of household. Couples who pay more than singles bear a "marriage penalty." Those who pay less enjoy a "marriage bonus."
Bonuses occur because couples pay tax on their combined income, no matter how much each spouse earns. If you're married, in a progressive tax system like ours, taxing combined incomes rather than separate ones lowers your tax bill if you and your spouse have substantially different earnings. With tax brackets for couples exactly twice as wide as those for single people (and other tax provisions applying equally), a couple's tax bill can be no greater than what they'd pay as individuals. Either they'd pay the same tax as two individuals or get a marriage bonus.
But tax brackets for couples aren't all twice as wide as those for singles. Before the 2001 tax act passed, tax brackets were 67 percent wider for joint filers than singles. As a result, couples often paid more tax than if each spouse paid at singles' rates on half their combined income. Thus, spouses with incomes in the same ballpark still paid marriage penalties.
---
Follow Stories Like This
Get the Monitor stories you care about delivered to your inbox.