Obama, Ryan, and the massive chasm that divides them
(Read article summary)
After the president's speech, it's clear that an historic fiscal debate between Democrats and Republicans is still to come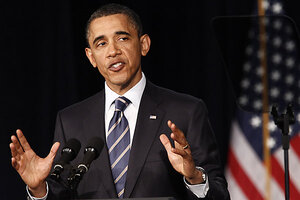 Kevin Lamarque / Reuters
Imagine for a moment you walk into a dealership to buy the vehicle of your dreams. The salesman asks what you want to pay. You say $50. He counters with $50,000. The good news is you have begun a negotiation. The bad news is, you've got a lot of talking to do before you can drive that honey off the lot.
Thanks to President Obama's speech this afternoon, we have a pretty good idea of the parameters of what promises to be an historic fiscal debate. Yet, like our friends at the car dealer, a chasm separates the two sides. This is a battle that is likely to continue beyond the 2012 elections and the offers will constantly shift. But at least we know where everyone is starting.
In a sense, Obama has given us the high water mark for government spending going forward, and Ryan has provided the floor for tax revenues. Interestingly, the middle-gound may well end up being something like the plan offered by the chairs of Obama's fiscal commission, Erskine Bowles and Alan Simpson.
But unlike most budget debates, more than dollars are at stake. As Obama himself noted today, this fiscal confrontation represents a profound disagreement about the nature of government. With that in mind, here are the opening bids on the big issues.
---