What Obama's tax calculator leaves out of the equation
(Read article summary)
The White House has created software that lets taxpayers calculate how their tax dollars are spent. But does the calculator give the full picture?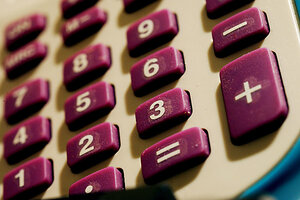 Photo illustration / John Nordell / Staff / File
Now that you're done filling out your 1040, the White House wants you to know where your tax dollars are going. Its Federal Taxpayer Receipt is, in concept, a great idea. But it also has some odd bits worthy of note.
First, the good news: At a time when much of the fiscal debate in the U.S. is based on misinformation, urban myth, and outright lies, it is nothing but helpful for people to know exactly how their tax dollars are spent. For instance, it is useful to see that the deficit can't be eliminated by ending foreign aid, which represents less than 2 percent of all federal spending. It is similarly valuable for folks to learn that half of their income tax dollars are spent on just two broad sets of programs– national defense and health care—and another 21 percent is spent on what might be called "safety net" programs for low-income people. More than 7 percent is spent on interest on the debt.
Especially helpful: If you plug in how much tax you pay, you'll see how many income tax dollars you contribute to various government programs. So, for instance, if you pay about $3,900 in income tax, you'll learn that about $1,000 goes to defense, while about $30 goes to college student aid.
Unfortunately, thanks to some of the choices the White House made, the calculator is a more than a bit misleading.
---