Spending caps, Medicare vouchers, and magical thinking
(Read article summary)
The government should subsidize health insurance through refundable tax credits, not by writing checks directly to everybody over 67 years old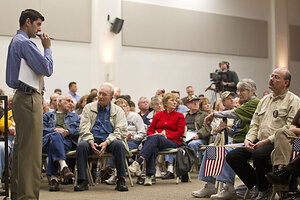 Jeffrey Phelps / AP / File
Want to know why caps on federal spending will never work? Just take a look at proposed Medicare vouchers that are included in the House-passed 2012 budget framework. Faced with an arbitrary ceiling on spending, a determined Congress could easily turn those subsidies into tax credits. They'd be exempt from spending limits but still add billions of dollars to the deficit.
Here is the story: The House Republicans want to convert Medicare from an entitlement program into a direct government subsidy—sometimes described as a voucher or, in polite society, "premium support." Either way, instead of directly paying for the health care of seniors as it does today, Washington would cut a check for everyone 67 or older (the new age of eligibility in the GOP plan). Seniors would use the money to buy insurance on the private market.
So what does all this have to do with spending caps? It is simple. If the Department of Health & Human Services cuts the checks, these vouchers would be considered spending and thus subject to a spending cap such as the one proposed by senators Claire McCaskill (D-MO) and Bob Corker (R-TN).
---