Michele Bachmann would knock 20,000 millionaires off tax rolls
(Read article summary)
Michele Bachmann wants to get rid of taxes on capital gains, which would take certain millionaires off of income tax rolls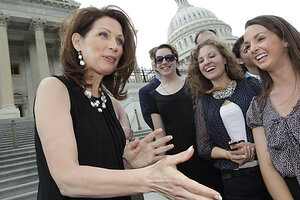 J. Scott Applewhite / AP
In a revealing interview with Steve Moore of The Wall Street Journal, Representative Michele Bachmann(R-MN) called for repealing taxes on capital gains. She also said she strongly believes that everyone should pay some income tax.
This got me wondering: What would happen to the number of non-payers if the GOP presidential hopeful got her wish and Congress did abolish taxes on gains. My Tax Policy Center colleague Dan Baneman ran the numbers: Such a step would remove 23,000 millionaires from the income tax rolls, and cut their annual tax liability by an average of a half-a-million dollars. If all investment income (including interest, dividends, and gains) were made tax free—an idea backed by Tim Pawlenty, another GOP presidential aspirant– 57,000 households making $1 million or more would avoid paying any income tax, about 50,000 more than today.
Btw, this largess would add about $25 billion to the deficit in one year (eliminating taxes on gains only would reduce tax liability by roughly $11 billion for those $1 million-plus households who no longer paid income tax).
---