Americans won't give up tax breaks? Bribe them!
(Read article summary)
Offering temporary tax breaks to cut down permanent ones could be a way to 'bribe' taxpayers to give up tax breaks.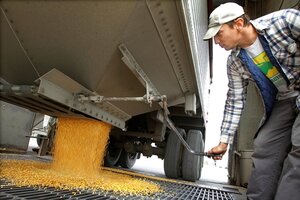 Seth Perlman/AP/File
Sensible budget wonks of all political stripes understand that a solution to our looming budget crisis will require more tax revenues. The aging of the baby boomers and rising health care costs will push up government spending. Yes, I know that we have to slow the growth of health spending and we definitely should look for wasteful or ineffective programs to cut, but spending will go up.
Of course, not a single House Republican is willing to publicly acknowledge this obvious fact. They're all in the thrall of Grover Norquist's no-tax pledge, which Lori Montgomery reported he dreamed up as a 14-year-old boy. Fact is, most of the ideas that pop into the adolescent male mind would be a poor guide for public policy and none more so than "the pledge." Then again, male politicians of both parties seem particularly prone to adolescent behavior. (But there are 24 Republican women in the House. Surely, they're immune to male adolescent fantasies…)
But I digress.
As Lori discusses, at least in the Senate, some Republicans are open to the idea of cutting "tax expenditures" – the tax credits and deductions designed to subsidize particular activities. In fact, just yesterday, the senate, including most Republicans, repudiated Grover by voting to end ethanol tax breaks. It's a small step, but suggests that perhaps the dark lord's death grip on sensible budget policy is weakening.
---