John Boehner's moment of truth
(Read article summary)
Will the Speaker of the House be able to take 'yes' for an answer?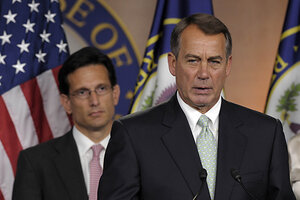 Susan Walsh / AP
In July 2000, under immense pressure from President Clinton, the Israeli government made Yasser Arafat a remarkable offer: It would recognize a Palestinian state that included Gaza, more than 90 percent of the West Bank, and a big chunk of Jerusalem. But Arafat, who had worked all his life to create a Palestinian nation, walked away from the deal, unwilling to face down rejectionist elements of his own movement.
Today, House Speaker John Boehner (R-OH) is having his own Profiles in Courage moment. Congressional Republicans, through tenacity and discipline, have dragged President Obama far to the right. The White House seemed ready to give Republicans a long-term budget agreement they could only dream about when they won control of the House last fall. Not only would this fiscal plan mirror the GOP's vision of smaller government, it would effectively force Democrats to abandon two of their most powerful political weapons–Medicare and Social Security.
All the GOP needed to do was declare victory and pop the bubbly. Yet Boehner lost his will, unwilling to face down rejectionist elements of his own party.
---