Do campaign finance middle-men deserve tax-exempt status?
(Read article summary)
Newly-disclosed information shows that tax-exempt political organization are increasingly taking advantage of their status. Do they still deserve their tax-exempt status?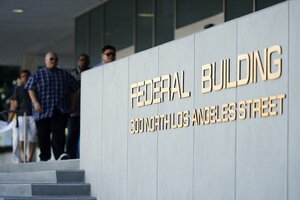 Kevork Djamsezian/Reuters/File
Thanks to the campaign watchdog organization Center for Responsive Politics and National Public Radio, we've learned more about the tactics of some political organizations that enjoy tax-exempt status. The Center has unpacked the dealings of tax-exempt groups that exist merely to funnel political money from anonymous donors to 3rd party non-profits that in turn buy millions of dollars in political advertising.
According to the Center, political non-profits spent more than $300 million on federal elections in the 2012 campaign cycle, three times what they spent in 2008. Increasingly, according to the report, money is being funneled through tax-exempt campaign money laundries.
Many of these groups are 501(c)(4)'s (named after the tax code section under which they are organized). To receive that status, they must serve the social welfare—a purpose subject to a very fuzzy IRS definition. But once they do, they can take advantage of a critical provision of the law: They are not required to disclose the names of their donors when they report to the IRS. This anonymity is key to their business model.
But the activities disclosed today by the Center are an added twist. We've known about dark money political groups that use their tax-exempt status to hide their donors. But those groups are generally engaged in political activity themselves and could claim they are enhance the social welfare by educating the public.
---