More than surfing: The Web brings innovation to the poorest classrooms
(Read article summary)
Instead of learning on by rote, children engage and teach each other as part of a community of learners through the internet.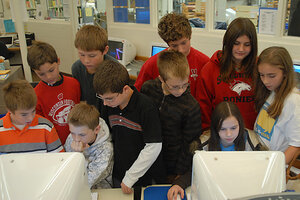 Sarah Best Glicksteen/The Christian Science Monitor/File
The UK is getting a healthy dose of much-needed innovation as a number of schools take on lessons from the research of Professor Sugata Mitra. SOLE (Self-Organised Learning Environment) is a truly radical experiment that takes the pedagog out of pedagogy, relying instead upon children's natural curiosity.
The hole-in the-wall experiments have been a phenomenon in India, across the developing world and now in Gateshead. It originates from when Professor Mitra decided to knock a hole in the wall of Delhi office, install a computer, hook it up to the internet and observe. As Professor Mitra explains, "Groups of Indian children were able to organise their own lessons using a single computer through unsupervised access to the world wide web."
Now children living in some of the most deprived areas of the UK are benefiting: "When I tried a similar approach in Gateshead it worked even better, for the simple reason that English is their native language, so they don't need to struggle to overcome that barrier before they can begin to learn from the web." Mitra is a model entrepreneur. Before entering this exciting world where education and technology meet, he started the database publishing industry (particularly the Yellow Page industry) in India and Bangladesh. That he is also applying the skills to the UK, as Professor of Educational Technology at Newcastle University, is to be celebrated.
---