Could 'charter cities' help poor countries blossom?
(Read article summary)
Even when Hong Kong was under British rule, neighboring China benefited from its economy. Would the same model work in the rest of the developing world?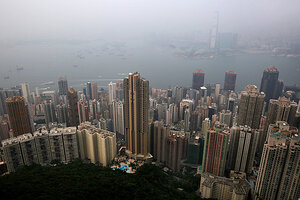 Vincent Yu / AP / File
Adam Smith said that prosperity depends on the rule of law, peace and low taxes. Broadly speaking, this explains why so many countries have failed to grow and are still in extreme poverty. What can we do to change this?
Ideally, to reduce poverty in the developing world, poor countries should run themselves better, but this is easier said than done. Of the things we in the developed world could do, the best would probably be to open our borders, allowing people from poor countries to move here away from their bad governments. Sadly, as much as I'd like that to happen, it's politically unfeasible right now – even our relatively tiny current levels of around 200,000 immigrants a year (about ⅓ percent of total population) creates huge public anger.
The next best option may be to set up "charter cities" next to poor countries. Basically, the aim would be to set up dozens of new Hong Kongs around the world, allowing open immigration from poor countries into these islands of good governance. Bryan Caplan writes:
The point of charter cities is to peacefully create pockets of high-quality First World governance in the heart of the Third World. How? By persuading Third World governments to create new self-governing cities exempt from most existing laws. These new cities could be governed by foreign law, and administered by foreign governments - or even a for-profit corporation. While the specifics are intentionally flexible, there are three core building blocks of any charter city:

1. An uninhabited piece of city-sized land, provided voluntarily by a host government.
2. A charter that specifies the rules that will govern the new city.
3. The freedom for would-be charter city residents, investors, and employers to move in or out.
---