TSA screenings drive passengers to find alternatives to flying
(Read article summary)
TSA screenings are becoming increasingly invasive. Will more travelers choose to take the bus or train, or even stay home and teleconference?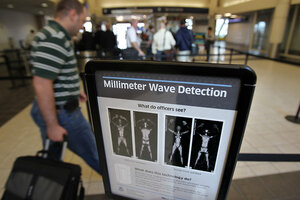 Jerry Holt / The Star Tribune / AP / File
Here's my Division of Labour co-blogger (and fellow Wash U economics PhD) Michael Munger doing his usual kvetching about this or that pointless and expensive invasion of privacy. As there have now been naked pictures of me taken at several airports (San Francisco, most recently), all I can say to poor Mike is that these encroachments on and invasions of our basic liberties are the price we pay for freedom.
There are ways around this, though, at least for short trips. I've made three trips to St. Louis in the last month or so, and on two of these trips I took Greyhound. Once you factor in waiting time at the airport, the interminably long time it takes to de-plane and get luggage, and all of the other hassles of air travel, it didn't take that much longer to take the bus. What's more, the bus ticket only cost a little bit more than the gas I would have burned driving round-trip (and a fraction of what I would have paid for a plane ticket), it was much more comfortable than a plane, and I could either work or sleep over the course of the trip. Every seat had at least exit-row leg room, and the bus from Memphis to St. Louis had wifi. It was also nice to be able to use my phone or computer without having to worry about when it was safe to use portable electronic devices.
---