How the patent office almost shut down Hollywood
(Read article summary)
New book 'The Master Switch' examines the role of the patent office and the history of film – including how Thomas Edison tried to have a movie monopoly.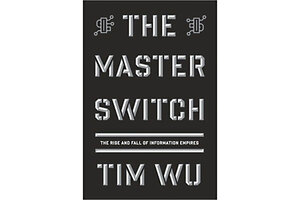 Knopf Doubleday Publishing Group
My C4SIF post The Perils of Centralized Innovation concerned a fascinating excerpt from The Master Switch by Tim Wu (excerpts on scribd and google books). I have since downloaded and begun to read this fascinating book. I noticed that it contains some illuminating discussions of the effect of patent and copyright on the development of the American movie industry. One of the points of Wu's book is how dominant information-based firms often resort to state help when their dominance is threatened. As Wu observes (quoted here in a post by Cory Doctorow):
The problem is that dominant firms are like congressional incumbents and African dictators: They rarely give up even when they are clearly past their prime. Facing decline, they do everything possible to stay in power. And that's when the rest of us suffer.
---