Intellectual Property 101: How to get – and challenge – a patent
(Read article summary)
As the Supreme Court prepares to cut the 'clear and convincing' standard for proving patent invalidity, it's worth examining the key steps of the patent process.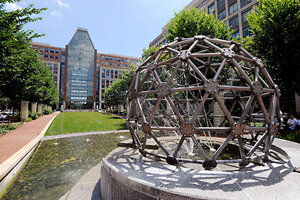 Olivier Douliery / Abaca Press / MCT / File
Peter Zura, in the 271 Patent Blog, notes, in Supreme Court Prepares to Chop Down "Clear and Convincing" Standard for Proving Patent Invalidity, that the Court has agreed to hear the appeal of the Microsoft Corp. v. i4i Ltd., case. In this case, i4i sued Microsoft for patent infringement and was awarded a $290M judgment, based on Microsoft's use of XML in Word.
At issue here is the burden of proof Microsoft needs to satisfy to prove i4i's patents invalid. Let me try to explain without getting overly legally technical. When a patent application is filed, the applicant is supposed to submit all the material prior art he is aware of. The patent office Examiner also does a search to try to find other prior art. He or she then examines the patent application in light of the prior art that is submitted and that found by the Examiner. If a patent eventually issues, then it is said to have a "presumption of validity". A defendant can argue that the PTO made a mistake and "should not" have issued the patent–say, because it was obvious in view of some prior art–but he has the burden of proof–but it's an uphill battle. If the defendant argues that the patent is obvious in view of prior art that the Examiner already considered (or that is similar to–cumulative with–prior art considered by the Examiner), then it's even harder. If he finds prior art totally different from what the Examiner considered, maybe it's easier to argue–you don't have to argue the Examiner made a mistake, just that he didn't see certain prior art.
---