Shoe magnate walks all over city hall
(Read article summary)
Internet shoe salesman Tony Hsieh (Zappos.com) will buy Las Vegas's City Hall building.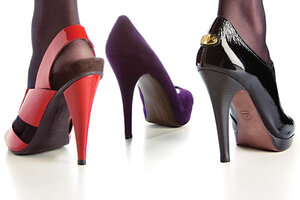 Ross Hailey / Fort Worth Star-Telegram / MCT / Newscom / File
Shoe magnate Tony Hsieh (Zappos.com) has made a deal to buy the City Hall building from the city of Las Vegas. Anyone who has visited downtown Vegas has noticed the curious building just off Glitter Gulch but with few windows facing the teaming activity on Freemont Street.
After they move in, a thousand Zappos employees will be able to walk a couple blocks and have a shrimp cocktail for lunch, maybe buy a dice clock or play some single-deck 21 on their lunch breaks.
Zappos and partner Resort Gaming Group will pay the city $25 million for the building which is $91 per square foot. Zappos will put $3 million down (of which the city must pay $2.5 million to Cornish Cos for it to release its rights to the property) and the seller will carry the remaining $22 million in two separate notes in second position behind an $18 million loan from another lender that is funding the remodeling.
The $17 million loan calls for payments through 2043 with a fixed interest rate of 5 1/8 percent. The other $5 million note is also due in 2043, but accrues no interest and requires no interim payments.
Sellers who carry back paper rarely would take a second position and fixed-rate 30 plus-year financing in the commercial real estate finance world is unheard of. Not to mention the no-interest, balloon payment-in-2043 note and the low required down-payment.
---