A million foreclosed homes – with bad vibes
(Read article summary)
As foreclosures skyrocket, more buyers consider buying a foreclosed-upon house – but not until the bad vibes are cleared out by a witch or shaman.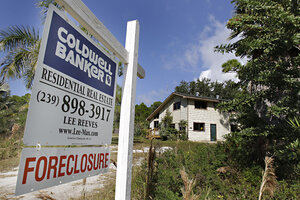 Chris O'Meara / AP / File
Four years after housing prices peaked the number of foreclosures climbed over one million last year. Despite the federal government intervening with the HAMP (Home Affordable Modification Program ) program and the foreclosure moratorium caused by the Robo-Signing scandal RealtyTrac reports that 2.9 million foreclosures were filed in 2010.
According to Case-Shiller Home Price Index home prices are diving again, spelling trouble for more homeowners given high unemployment and diminished job prospects.
Amherst Securities Laurie Goodman says that as many as 11 million mortgage borrowers may default. Rick Sharga at RealtyTrac predicts 4 million to 5 million defaults, less than half as many as Goodman but still disastrous.
Buying low-priced foreclosures may seem like a bargain but the Wall Street Journal reports that these homes contain bad vibes. And new carpet and a fresh coat of paint won't solve the problem. A handyman can't fix bad vibes, witchcraft is required.
A recent foreclosure buyer in Salem, Massachusetts engaged the services of practicing witch Lori Bruno and warlock Christian Day to cleanse the house of the lingering spiritual funk. "Lord of fire, lord flame, blessed be thy holy name….All negativity must be gone!" Ms. Bruno shouted.
---