TSA unionization may open floodgates
(Read article summary)
More than 40,000 TSA workers were given collective bargaining rights last month. Will this make unionizing more widespread?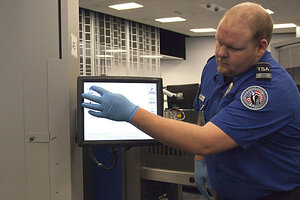 Julie Jacobson / AP / FIle
I was traveling (ironically) on February 4th and have been blissfully ignorant of the news that TSA workers are on the verge of wearing the union label. Talking about President Obama's move to the center on CNBC's Squawk Box this morning, Jack Welch said, "Let's hope he's moving to the center. But from what I see—unionizing 43,000 TSA workers on a Friday and giving a speech (to the US Chamber of Commerce) Monday morning—show me the money."
If there has been any uproar about this, I've missed it. Welch's point on Squawk Box was that although Obama hasn't passed card-check legislation that is (rightly) feared because it would make unionization far more wide-spread, unionizing 43,000 government workers on a slow news Friday afternoon was significant. Even with card check regulation, unions would have to spend money ramping up campaigns and targeting employers. Obama did a back-door card check by adding thousands of soon-to-be dues-paying government workers at no cost to big labor.
Two unions are fighting for the $18 million in annual dues that the TSA crew will provide: National Treasury Employees Union and American Federation of Government Employees. "Today marks the recognition of a fundamental human right for 40,000 patriotic federal employees who have been disenfranchised since the inception of the agency," said John Gage, president of the American Federation of Government Employees when the decision was announced.
---